UNION SUIT 2022 NEWS
The chill in the air and the onset of PSL everywhere also brings the onset of some sexy VPL, thanks to "Grey Sweatpants Season" which sees us into the "Union Suit Season" — keeping warm, looking sexy and prioritizing access.
Keep an eye on our socials for updates. We caught wind of some exciting developments coming up in the next weeks. Be sure to get your name on the list to be the first to know.
Read a couple interesting facts about the History of Long Johns.
Sign up for the "Union Suit" special issue of Snap Your Strap.

The history of long underwear; also known as thermal underwear, or affectionately some call it "long johns". An invention born out of convenience and advancements in technology. Elastic and rubber meant waistbands and no longer needing to be "sewn into" your full body of long underwear for the winter.
Where did the term "Long Johns" come from?
The story behind the term is not as cut-and-dry as is the story with jockstraps, nonetheless there are some clever ideas out there.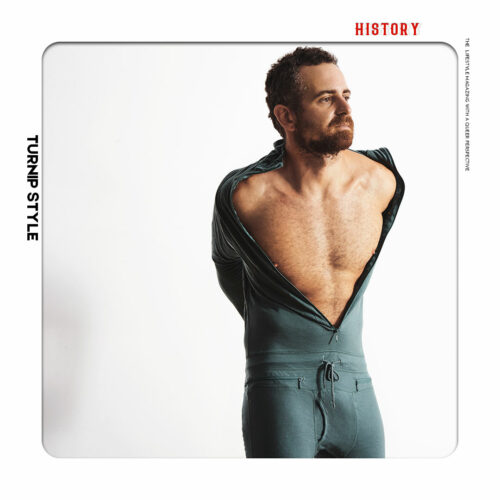 One school of thought comes from the foundation of "long johns" being found in Derbyshire, England. There has been a company there with a 225 year history. The story says that John Smedley's Lea Mills, is the creator of the actual garment and it was then named for heavy weight boxer John L. Sullivan (19th century). The company still does produce long johns.
A second school of thought has been put forward that the term "long johns" comes in fact from the french term for the garment; "longues jambes" (long legs).
A little Canadiana History in the story of long johns. First introduced to 17th century England, becoming popular as sleepwear in the following 18th century; it was near the end of the 19th century when 2 Canadian brothers (Myles and John) created the famous Stanfield's Unshrinkable Underwear. 07 December 1915 the first pair of long johns were introduced by a Canadian, Frank Stanfield.

The Nasty Pig Union Suit has become a yearly tradition with the same 2 questions asked each year. What are the new colours are going to be for the season? Will I be able to get one before they sell out?
Well we can help you with the first one for sure; this season's colours. This year our choices are; Classic Black, Stellar Blue and Crimson Red. (I am seriously in love with that blue!)
The Nasty Pig Union Suit sets itself apart by being a garment that is not only sexy but constructed to be comfy, cozy and alluring but also functional in more ways that one.
With a strong nod to the "underwear of yester-year" Nasty Pig always elevates the Union Suit, using the perfect combination of super soft cotton and Spandex blend.
Take a look at the below at the gallery and see what we mean.