Oxballs Fractal Comfort Cockring
Attention to detail. I am a sucker for it, every time. Oxballs has an understanding of what works and why.
Comfort. Stamina. Performance.

Another reason we have to be thankful that some folks were paying attention in high school science class, got the bug and moved on to create some pretty amazing materials.
One being the stretch Plus+ SILICONE, used in the Fractal Comfort cockring by hünkyjunk.
Once I got myself my first cockring made with stretch Plus+ SILICONE my entire attitude towards cockrings expanded.
No longer just an accessory to be worn during sex but now and accessory I could comfortably wear for extended periods of time, the sex act and even after that.
That felt pretty bulgin awesome.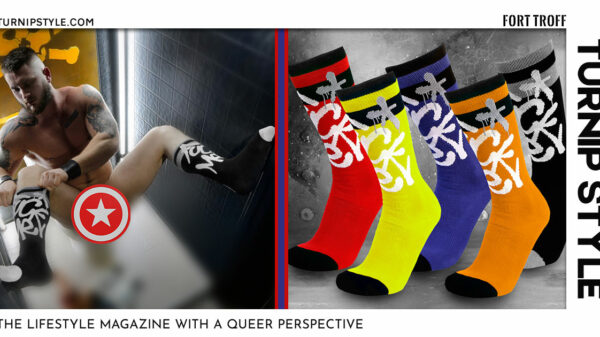 Fort Troff Fuck Me Socks – JSC December
Gone are the days of stinky socks after an intense workout at the gym or a hard-core down-to-it rut and fuck session.
Cocksox CX21N Jockstrap – JSC December
Ergonomics and textiles combine to produce a quality garment that is comfortable to wear all day and will take you from work to the court – no problem.

Oxballs Fractal Comfort Cockring – JSC December
It is not just the stretch Plus+ SILICONE that makes this cockring so comfortable. Surprisingly, that is not the extra detail that really counts.
The flatter surface on the inside that avoids those uncomfortable moments when a ring slips and one of your balls goes…ZING thwup! This design prevents shifting and rolling of the cockring. It stays where you put it. (Someone playing attention in Physics probably came up with this concept.)
Ideal to wear under your favourite bikini swimmer, poolside. Perfect companion to pouch ya up in your briefs, under your trousers. Flexible.
Fret not, stretch Plus+ SILICONE is non-toxic and phthalate free. Safe for either water or silicone based lubricants. Give your cockring a wash after use with warm soapy water; wash like ya wash your hands and air dry after rinsing well.
Be sure to always store your toys and accessories separately. Great use for your old socks that you don't wear any more.
You can never have enough jocks, socks and cock things.
{{ Survey.progressbar }}%
Thank you
You have submitted your response before