There are few items of clothing, that I have had in my lifetime, that have gotten as much wear, as have my JC Athletic Shorts.
I do not start a review, until I've really given a garment a good amount of "wear and tear", to simulate natural degradation over time. These shorts have impressed me so much, moreover given I am wearing them all the time. And, you can barely tell by looking at them.
When I got my first pair it was only a couple days before I started to shed my other shorts. I was not going to be wearing them again.  I was sure of it.
Comfort and fit were unlike anything I had ever experienced before in athletic wear or even fetish/fashion wear.
That may be what sets these apart, I think.
They were designed bringing together the best parts of function, fetish and a wee bit of fantasy.
These are designed to fit you. Not obscure you. With doing that, these shorts then look good on you. They work with you by staying put where you need them to be.
When your clothes fit you right, and work with you, you carry yourself better. You stand taller. You look confident. Not uncomfortable.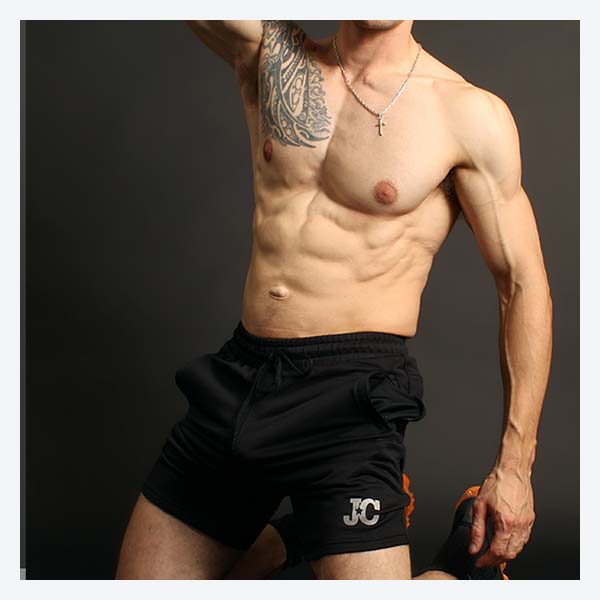 These shorts have seen me on workouts, sweating my ass off, as I drag my said sweaty ass, 5K down the street. Hopefully, before it gets too hot. And they've seen me through days on end in bed, hooked up to machines in the CCU.
I have 2 pair now.  I needed a second pair to wear when the first was in the wash. I did not wait long until I got that second pair. I probably could use a third.
Over the time I have had both pairs, other than some slight fading from being in the sun when wearing or drying on the line; these are near as new as you can get.
The stitching is all intact. No pilling in the fabric and the reflective ink designs are still intact and the fabric still feel good sliding on my jockstrapped butt.
Quickly. About washing and drying. When I take these out of the washing machine, after a good spin dry; they usually take about 10 minutes on a hanger to dry in winter, 5 in summer.
I mentioned above that I wear them a lot. So much so that my bestie UrbanGuyTO, finally, got himself a pair.
I almost got myself a 3rd pair, but decided I'd give something new a try … maybe if the gym ever opens up in my building I'll look good on the elliptical in my new JC Athletic Air Mesh Shorts.