The JC Athletic 3 Inch Jockstrap stepped up to the platform when it was announced that BIKE was discontinuing. Jockstrap lovers around the globe were in a "crazy" panic when this announcement came out. How could the company that is responsible for giving us the jockstrap in 1874 be closing up shop?
Out of all that "crazy" panic emerged, a really solid jockstrap. Brought to us by a serious jockstrap enthusiast. Which, makes the story all quite a bit more romantic when you think about the fact that the jockstrap was an invention born of necessity and now the JC Athletic Jockstraps are a product of that necessity but now fueled by passion.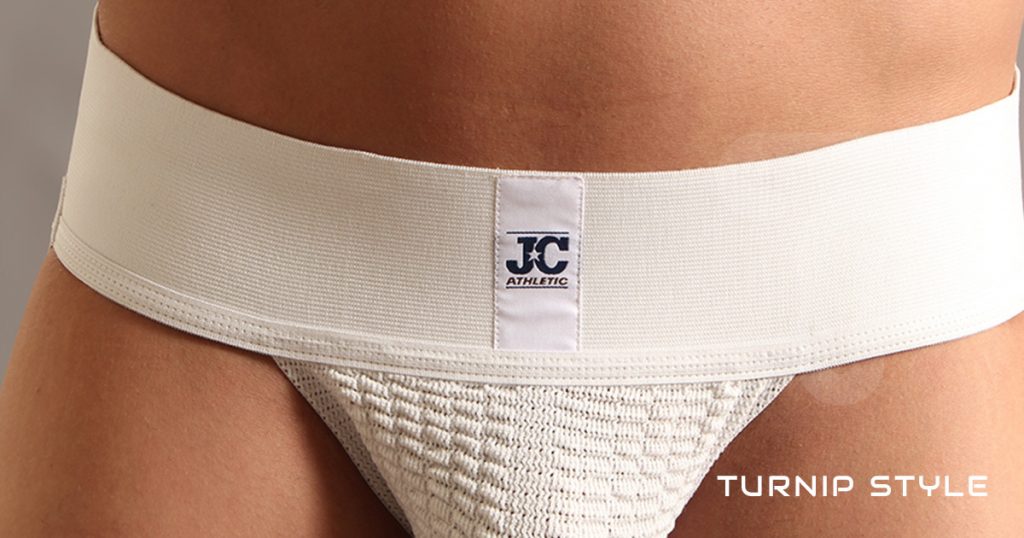 The Waistband.
Keeping in mind that the jockstrap is an invention of necessity; one could understand why such a wide waistband; which to some is either the epitome of what makes it or breaks it for some dudes. However, this jockstrap was designed to provide some comfort from the vigorous activity of cycling down cobblestone streets. Not just a healthy romp through the "maze" at the bathhouse or night club. (wink wink)
The technology behind what the jockstrap is intended to do, has been fine-tuned some. We have surely seen vintage photographs of some poor guy in a jockstrap that looks more like an elastic and loincloth wrapped around his area.
The need and intention hasn't changed. Just the way we go about it solving the problem the need creates.
The technology behind the fabrication of the polyester and rubber, design and construction, for example, all lend to a superior comfortable fit.
The waistband is very comfortable against the skin and feels supportive rather than restrictive, as some might assume. Also, I have a bit of a belly and the wide waistband is not uncomfortable for me to wear at all.
Attention to detail: JC Athletic ensures comfort with a super soft waistband with the biggest bonus being that all their tags are on the OUTSIDE of the band. No rough little scratchy tags to bug your butt crack and lower back! BONUS.
The Pouch.
This is what it is all about really. I mean business in the front and party in the back. Am I right?
Seriously, the pouch is what it is all about. The reason why Bennett created the jockstrap is because he was tired of his junk bouncing around all over Boston as he was cycling from customer to customer, over cobblestone streets, delivering packages.
That's right C. F. Bennet, inventor of the jockstrap; was a BIKE courier.
The JC Athletic pouch is strong. Strong on support and strong on comfort.
When you slide your junk into this pouch and then remind yourself that the entire jockstrap is made of Polyester and Rubber you are going to be surprised. Not at all what you expect. Traditionally 2 fabrics not known for "air flow". Something we basically all try to achieve is adequate airflow around the meat and veg!
Never once has my junk felt like it was poaching in a sauna.
Today's technology has allowed us to say goodbye to the polyester of our past. Which I am not mad at. There is some polyester that belongs in the past.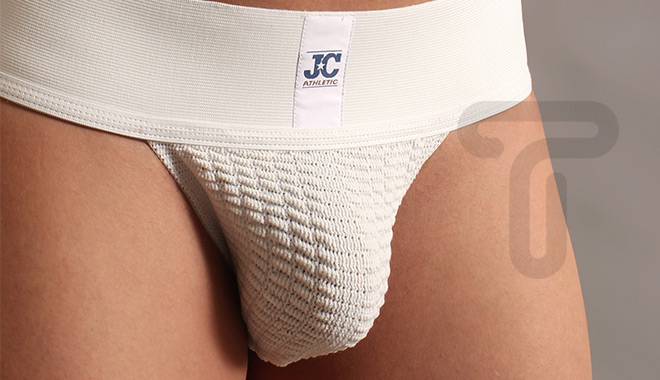 When you drop your junk in the pouch you feel like you have dropped into a stretchy, comfy cotton pouch.
You have all the benefits of cotton airflow and all the moisture-wicking benefits of the poly/rubber blend.
What this blend will give you is consistency. This past February it will be 3 years since JC Athletic launched and I got my hands on the 3 Inch Waistband jockstrap and from the beginning I have truly loved it.
But what is best is that it is just as comfortable as it was the first day. Sure it was a bit stiff when I went to try it on as soon as I got it. I needed to satisfy my eager curiosity. A wash with my other gear and hung to dry and it felt like sliding into my favourite t-shirt.
I like to think of it as your favourite t-shirt that never goes in the dryer. Wash it; hang it to dry and it will be dry in no time. This ensures that the fibers (polyester and rubber) don't break down due to the heat of the dryer.
I look forward to hearing about your experience with JC Athletic Jockstraps – photos too!
Available in the pictured black and white at Jockstrap Central